Welcome to the Wiki
Hello, and welcome to the Poison Apple Wiki! The wiki that anyone can edit! Please respect everyone and anyone that is willing to help out and make this wiki cool! This wiki was created by MsGleekFan on February 19, 2011, and adopted by Wiki Geek on March 7, 2013. Please respect everyone!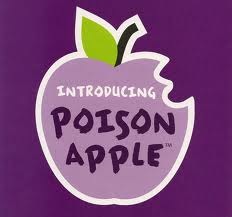 Poison Apple Books
This is a wiki for all things relating to the poison apple series published by Scholastic. There are multiple authora so there is no particular person who writes these books.
Featured Book
Zoe's never been superstitious, so when she and her best friend Mia have their fortunes read at a carnival, she doesn't take it seriously. In fact, Zoe mocks the fortune-teller. But the woman gives Zoe a necklace to seal her fortune, and as soon as Zoe puts it on, unexplained things begin to happen to her. Her bike spins out of control, a fire starts in the oven when it isn't on, and Zoe begins receiving threatening texts and emails. The necklace must be cursed! But when Zoe and Mia return to the site of the carnival, it's gone! Can they break the curse before something terrible happens?
News
Expect more information on The Green Eyed Monster soon!
If you create an account or already have one, you may be in the running for adminship.
Other Wikis You May Like
Who's writing style is creepiest?